To celebrate the completion of inter·punct's 229-page, three-years-in-the-making project, inter·view, we decided to throw a party. (If you don't know already, inter·view is our second volume featuring interviews with 15 different architects and practitioners, including Maria Aiolova, Alex Maymind, Hugh Broughton, Winy Maas, Harry Gugger, Sou Fujimoto, Bernard Tschumi, Wiel Arets, Jose Oubrerie, Mark Pasnik, Neil Denari, Eva Franch i Gilabert, Jesse Reiser and Nanako Umemoto, Christina Ciardullo, and Vishaan Chakrabarti. If you already knew, well, you just got to read about it again.)

On October 3rd, 2016, we took over the College of Fine Arts Great Hall, played some loud music, ate some delicious food, and gave away and/or sold over 80 copies of inter·view along with limited edition totes, shirts, and keychains. (Check out our online store, there might still be a few left!)

Shout-outs to Sin-Pit, To Sleep at Night, Davis Galvin, Costco, Noah, and the rest of the inter·punct fam for the music, food, and visuals.

If you missed out, you can watch this awesome video to experience how cool the party was, and then be sad because you didn't get to go.


---




In an effort to expand beyond print media and engage with the 107th annual meeting of the Association of Collegiate Schools of Architecture, we conceived the idea for Black Box. The installation seeks to step into the discourse of confessionals, the stalls that house the historically cathartic practice of divulging secrets and sins to a higher power. Through it, we recognize the shifting practices triggered by the ubiquitous anonymity of the internet and call for a re-acknowledgement of the devalued practice of verbally speaking one's mind. By creating a double layered façade articulated with perforations and mirrors, the Black Box plays with the illusions and realities of privacy and separation. In line with Reyner Banham's writing, our box is recognized by its output, but remains unknown in its contents.

Upon entering the booth participants are able to perform two actions: record and listen. A button on the left plays a distorted version of a previous confession, while a button on the right allows for the recording of one's own guilty secrets. Each confession is then distorted and added to the archive of audio.

Initially targeting a crowd of establishment architectural educators, we sought to provoke a response and perhaps a return to more rebellious positions perhaps held when they were themselves in school. Subverting the traditional method of sharing opinions through written work which reflects on their career and rapport, the Black Box gives participants a chance for instant gratification and untraceable divulgence.

Designed to be a modular, re-deployable piece, Black Box takes on different meanings in different contexts. It has made two appearances so far and is slated to appear at least one more time before an exhibition of the compiled confessions is put together.

The installation appeared at the 107th annual meeting of the Association of Collegiate Schools of Architecture and the 3rd annual Carnegie Mellon School of Architecture EX-CHANGE exhibition.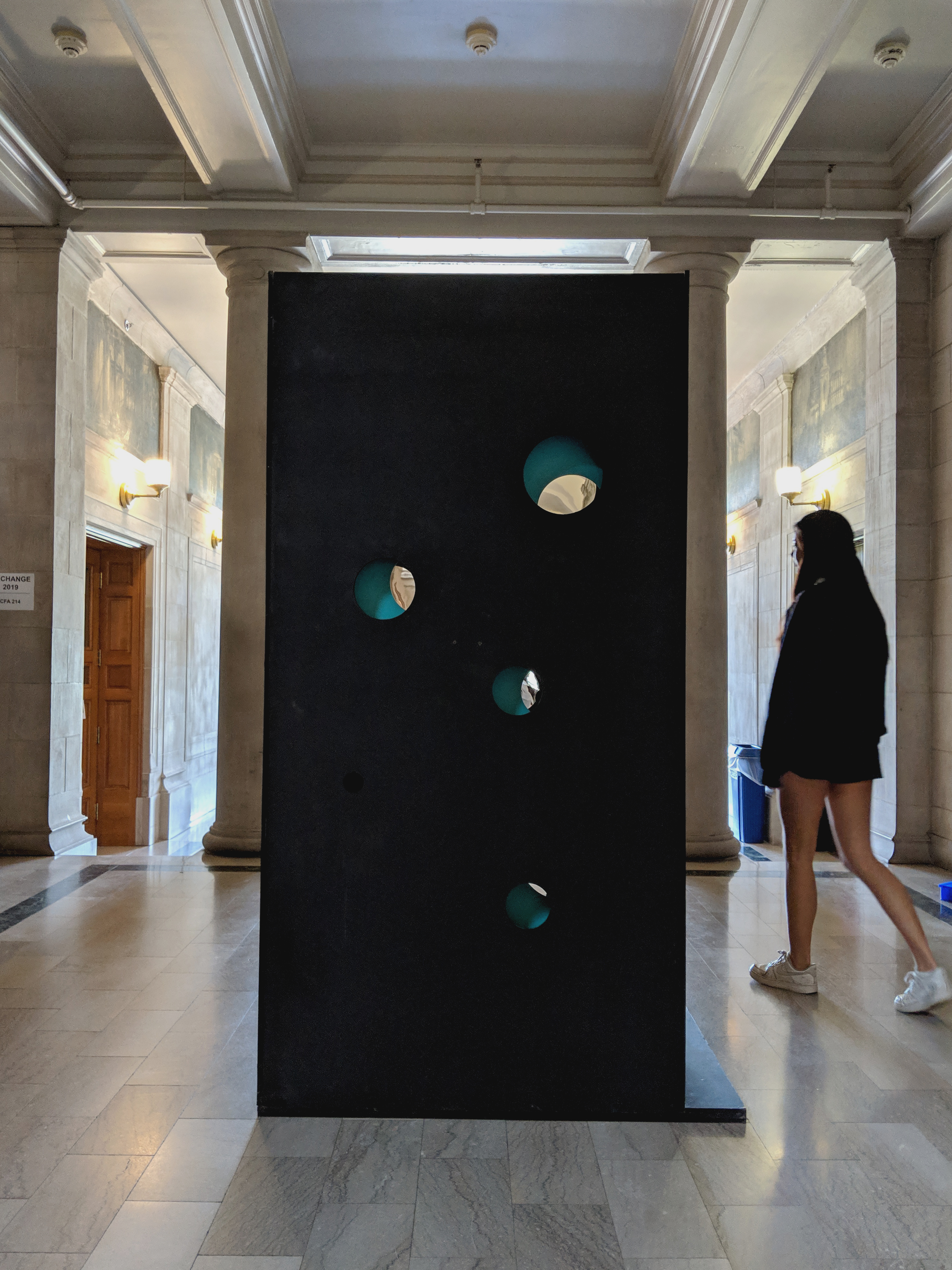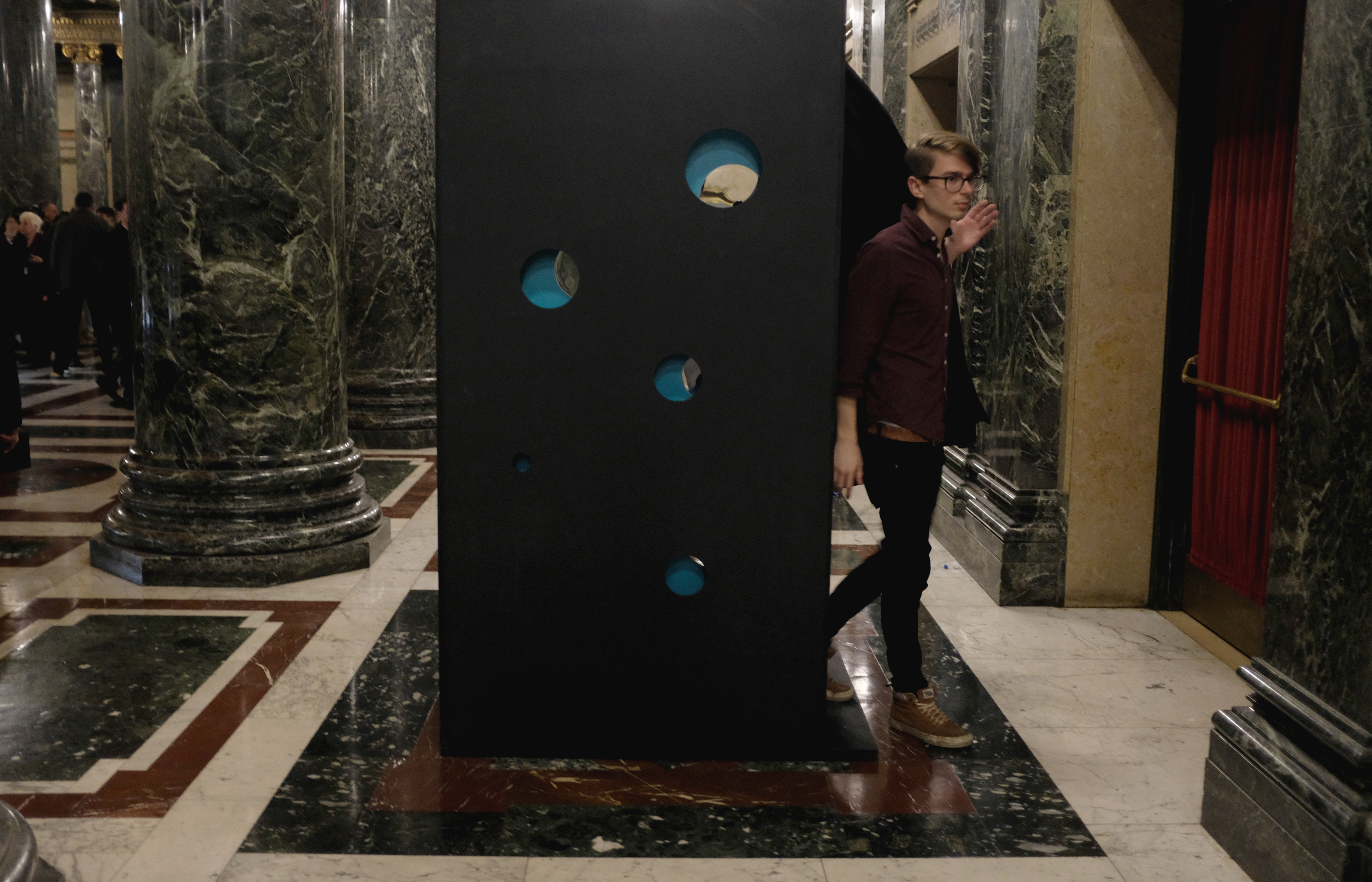 ---



A poster series we put together in reverence of Tschumi's Advertisements for Architecture. We quite heavily and unabashedly borrowed from his rhetoric, but we found a need to push some buttons in our school.

The posters were printed and displayed all over campus.

---